My family loves to have fun! You're never too old to go "Trick-or-Treating!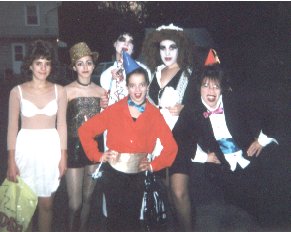 Front-Madison as a "Time Warper"
Back (from left to right)-Alex as "Janet", Emily as "Colombia", Scott as "Dr. Frank N. Furter", Gwen as "Magenta", Mom (Terry) as a "Time Warper"
This is all of us dressed up as characters from the "Rocky Horror Picture Show" Too bad most people had no idea who we were..."Oh, honey, look at the girl in her panties and those people in tuxedos! Aren't they so cute?!"


Never a dull moment at Pizza Hut...
Yes, that is Emily...she's at Logan's 16th birthday party at Pizza Hut in the late summer of 2000.










Emily or Anthony Kieids? Emily is wearing a mask we made of Anthony Keidis, the lead singer of the Red Hot Chili Peppers. This picture was taken on August 25, 2000 in Harrisburg, PA.










Yes, that's me as Anthony Kiedis. The picture was taken the same day as the picture of Emily as Anthony.