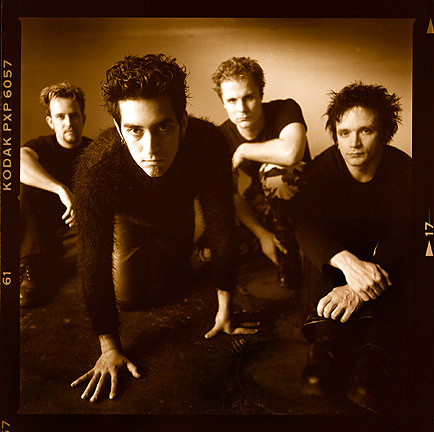 (from left to right: Chirs Jamison, Jean-Marc Azoury, Ken Pardiny, Kevin McDonald)
Grapevine is an extraordinary band from Pittsburgh, Pa. They are composed of 4 members: Jean-Marc Azoury plays guitar and sings lead vocals, Kevin McDonald sings backing vocals and plays lead guitar, Ken Pardiny sings backing vocals and plays bass, and Chris Jamison plays drums.
It was Saturday, Feb. 17, 2001, and my mom, my sisters, a former friend, and I were staying at the Harrisburg Hilton Hotel for the Millennium Muisic Conference. We had an adjoining room, and it just so happened, that there was a band next to us--their name was "Grapevine". They were playing at the Vault, but we were confined to the Hilton. We met some great bands that night and listened to a lot of great music. We returned to our room around 2:30 a.m., shortly after that, came a knock at the adjoining door, and of course we answered the knock. Standing in the doorway was none other than the band. They came into our room, and we shared hair gel, did belly flops on the beds, discovered we had the same view from the window, they gave us all a free sample cd, and we talked about a lot of crazy stuff. They left to go to breakfast and we tried to get some sleep. A few hours later we had to say our goodbyes--they were returning to Pittsburgh and we had to travel all the way home(a few miles). It was a great weekend!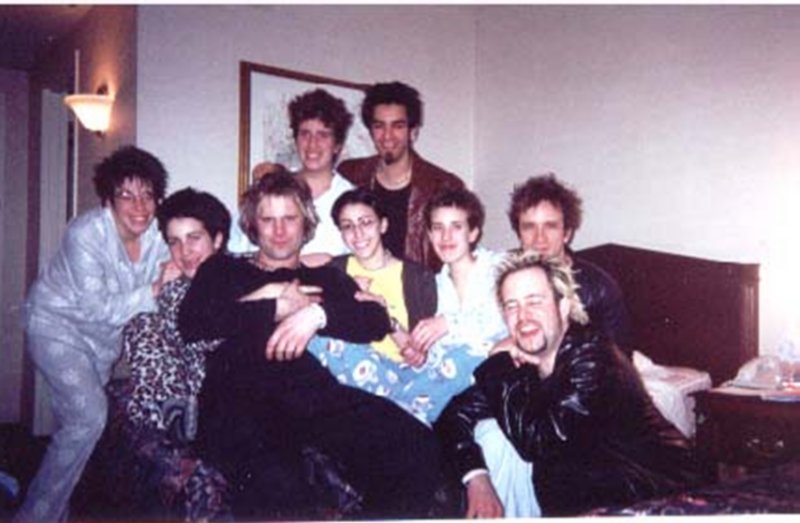 This is a picture of Grapevine with us in our hotel room. In the front, on the far right is Chris. In the middle, from left to right is Mom (Terry), Gwen (me), Ken, Emily (not related...), my sister Alex, and Kevin. In the back is my sister Logan and Jean-Marc.
The next time I saw Grapevine was at Gullifty's in Camp Hill. My mother and I went, and we had a great time. It was the first time I had seen them perform, and they played a great set! We talked with them for awhile, and told them that we would get to Pittsburgh sometime to see them again.
My Pittsburgh Trip
On Friday, March 30, 2001, my mom, my sister Logan, and I decided to go to Pittsburgh to see Grapevine and New Invisible Joy (Grapevine was playing on Friday, and NIJ was playing on Saturday). It was a spur of the moment trip...we decided the night before...
Friday night we headed out to Nick's Fat City to see Grapevine. They sounded great! There were hundreds of people there...it was such a joy seeing them amongst all of their local fans. We had such a great time! It was great to see the band, and talk to they guys...they couln't believe that we came all the way to see them. Thanks again to Kevin and the manager of Nick's Fat City.
Here are some pictures we took on March 30, 2001 at Nick's Fat City.